We're changing how we generate power to better protect the environment and meet changing regulatory requirements.
Federal regulations on greenhouse gas (GHG) emissions have changed. This means we need to change the way we generate power.
Our Goal
We're working to reduce our greenhouse gas emissions by at least 50% from 2005 levels by 2030. Going even further, we're working towards net zero GHG emissions by 2050.
In 2020, our GHG emissions were 12.8 million tonnes CO2e*. This is a 20% decrease compared to 2019 and is 10.2% below 2005 levels
Power use was lower in 2020 due to the COVID-19 pandemic. But our continued commitment to lowering emissions also played a role in this reduction. This includes:

The first full year of operation of our new and efficient Chinook Power Station

Increased capture of carbon at our Carbon Capture and Storage facility compared to 2019

Maximized hydroelectric generation during high water runoff in the Saskatchewan and Churchill Rivers

Aligned outages with maintenance work and nonpeak demand periods to optimize power generation

As a result of the larger than anticipated emission reduction in 2020, we expect emissions in 2021 to be above 2020 levels. The forecasted emissions are based on the September 2021 Business Plan. Main factors for the increase in emissions in 2021 include:

increased demand (e.g. COVID-19 recovery, high summer temperatures)

low hydro generation availability due to drought conditions

*CO2e stands for CO2 equivalent. This is the measurement for reporting greenhouse gases. The measure includes CO2 emissions as well as the CO2 equivalents for methane (CH4) and nitrous oxide (N2O) emissions.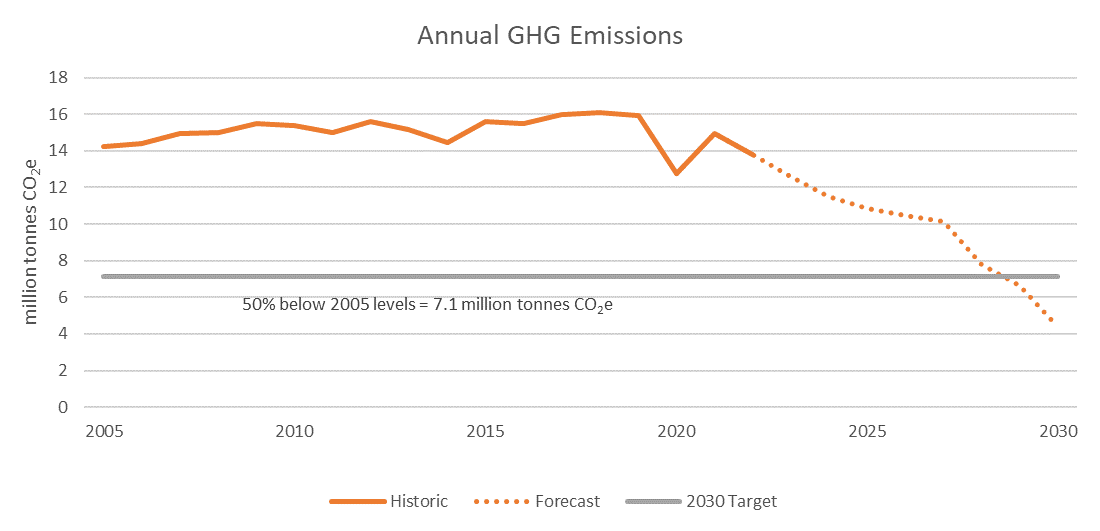 We'll continue making strides in emission reduction as shown in the above graph with a declining trend out to 2030. To get there, we need more renewable and lower-emitting generation in our power system. That's why we're looking at more generation options that will work with regulatory requirements.
Why Reducing Emissions Matters
Emissions, including those from the generation of power, can have important impacts to:
climate

natural resources

health
Greenhouse gases can last hundreds of years in the atmosphere. This is why it's important for us to do what we can now. You can help by being efficient at home. By using less power not only can you save money, but also help protect the environment.
Emissions Are Starting to Decline
In 2020, our emissions went down compared to 2019. Going forward, although we expect to see 2021 emissions levels that are higher than 2020, the forecast emissions out to 2030 maintain a downward trend. To meet the growing need for power, we'll continue to rely on all our generation options:
coal

natural gas

hydro

wind

imports
Moving towards 2030, we will start replacing conventional coal with lower emitting generation. As a result, emissions will continue to decline.