All forms of power generation produce waste of some sort - but nuclear power is the only one that stores and tracks all the waste it generates.
Our licencing application must include a plan for waste management. This plan will cover the entire 60-year life of a small modular reactor, and beyond. We continue to work on a plan to manage the various levels of radioactive waste that will come from this project. We're working with experienced nuclear operators to ensure our waste management strategy aligns with best practices for the industry and follows all regulations.
But used fuel isn't the only type of nuclear waste that comes out of a nuclear power facility. As determined by the Canadian Nuclear Safety Commission, there are 3 levels of nuclear waste: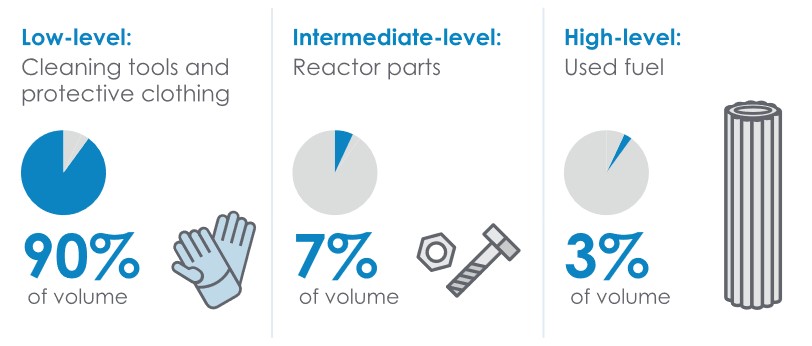 For more information on the levels of waste and their management, check out the Government of Canada's Nuclear Safety webpage.
Governing Bodies
The Canadian Nuclear Safety Commission is Canada's nuclear regulator. The Commission has successfully overseen the safe management and transportation of both nuclear fuel and waste for over 70 years in Canada.
National Waste Strategy
Canada's Nuclear Waste Management Organization (NWMO) is responsible for designing and implementing Canada's plan for safe, long-term management of used nuclear fuel. In Canada, that plan is made in consultation with:
Canadians

Regulators

Governments
Learn more about the NWMO and their plan for nuclear waste in Canada.
Provide Your Feedback