Four Hours in a Wheelchair Builds Perspective for Life
June 19, 2017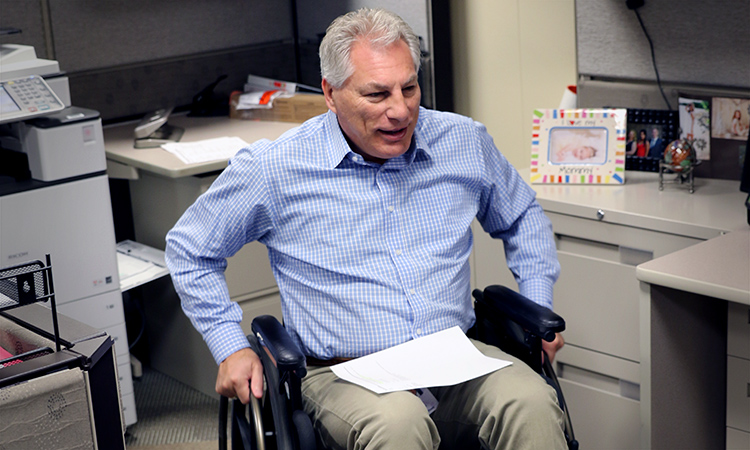 At SaskPower, we're striving to make our workforce as diverse as the customers we serve. There are many reasons for this, including the creativity it brings to our teams, and the respectful environment it helps us create.
As part of this ongoing effort, four members of SaskPower's Executive and one director recently swapped out their desk chairs for a wheelchair in support of our Network for Employees with Disabilities (NED) and Spinal Cord Injury Saskatchewan's Chair Leader Day. The experience left a lasting impact.
Diane Avery, Vice-President of Customer Services, was quick to note the many physical challenges she encountered, from tired arms to difficulty with opening and closing doors, to being unable to hang up her coat because the hanger was too high. Even an event as simple as going to the washroom, she noted, took more time and effort in the wheelchair.
"With the wind blowing in my face and my weak arms I was not able to roll up the ramp to get into the building," says Avery, noting that she ended up needing assistance. "Not the case when I left, however, as the wind was behind me and the ramp required I hold back onto the wheels."
Beyond gaining new perspective, Avery makes note of some changes SaskPower could make to improve accessibility in our buildings. This includes making sure all automatic door buttons still work (not all of them seemed to be operating) and revisiting whether we have enough parking arrangements for those with disabilities.
Grant Ring, Vice-President of Procurement and Supply Chain, also participated and echoes Avery's sentiments. As the executive responsible for SaskPower's Properties Department, the experience had him reconsidering our standards.
"Trying to navigate around some basic constraints helped me understand that what we 'think' is accessible, is actually limited. We really need to take this into account with our facility planning," says Ring.
All employees had the chance to get behind this effort through raising funds for Spinal Cord Injury Saskatchewan. Our goal: to raise $5,000 or roughly the cost of one wheelchair. In total, we were able to surpass our goal and raise $17,102.
Ted Elliott, Vice-President of Distribution Services, was encouraged by the support he received. "On a personal level, my day in the chair opened my eyes, and the eyes of others around me, to the challenges that many face every day.
"My wish is that others get the same level of support that I received today from a great team that never disappoints."