Island Falls Concrete Rehabilitation
November 20, 2017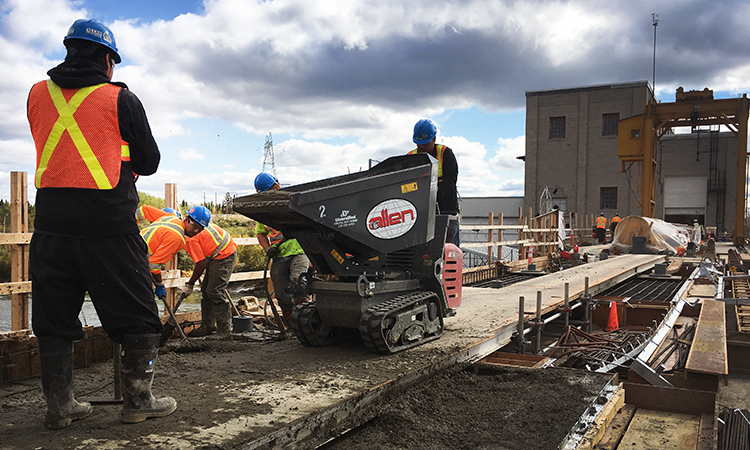 Working within the community of Sandy Bay to extend the life of our Island Falls Hydroelectric Station has resulted in engaging and strengthening relationships with residents.
Built in 1929, the Island Falls Hydroelectric Station near Sandy Bay requires concrete rehabilitation work to maintain the life of the station.
Hiring local
Allan Construction, our support contractor on the project, looked to the community for assistance and hired 40 per cent of local workers. At times when extra help was needed, local residents came and worked on their off-shift with the crew. Some community members have been working with Allan three to four seasons now.
The overall project addresses concrete deterioration issues at the station such as the powerhouse, main dam deck, piers, and tailrace area. It will also focus on mechanical needs such as a new log lifter on the main dam deck and repairs to the Gantry Crane. This five-year project, which began in the summer of 2016, should be completed in 2020.
Connecting with the community
But it's not just about the hydroelectric station. Our employees, along with Allan Construction, have come together to help build a new field trip cabin and bunk houses for Sandy Bay School. The cabin will be built facing Sokatisawin Lake and provide the kids a 'getaway' to escape the distractions of the village and focus on getting back to their roots.
SaskPower paid for cabin materials and donated a truckload of lumber. Allan Construction has volunteered to install the 48 pile supports for the structures. Construction is to begin by the end of November 2017, weather depending.
Helping where we can
The village council asked us to help get the local store up and running again. This store is essential for the community as it's the only place to purchase groceries.
Our employees designed and supplied steel to brace the foundation. Allan installed the bracing and performed site grading around the store while the village council organized cleaning efforts and the repair and replacement of equipment.
SaskPower and Allan also teamed up in June 2017 to complete the Sandy Bay shrine by supplying, placing and pouring the concrete slab.
As we continue our work to complete the Island Falls concrete rehabilitation project, we'll continue to engage the community and strengthen our relationship with residents.
Quotables
"The concrete work at the Island Falls Hydroelectric Station will help restore and maintain the life of the station."

"Allan Construction hired 40 per cent of local workers for the project."

"SaskPower employees along with Allan Construction teamed up to help the community with several local initiatives such as:

Building a cabin and bunk houses for the Sandy Bay School;

Helping the village council get a local store up and running; and

Complete the concrete work so the community shrine could be installed."
Learn More