Spring Cleaning Tips to Help You Start Fresh This Season
April 30, 2018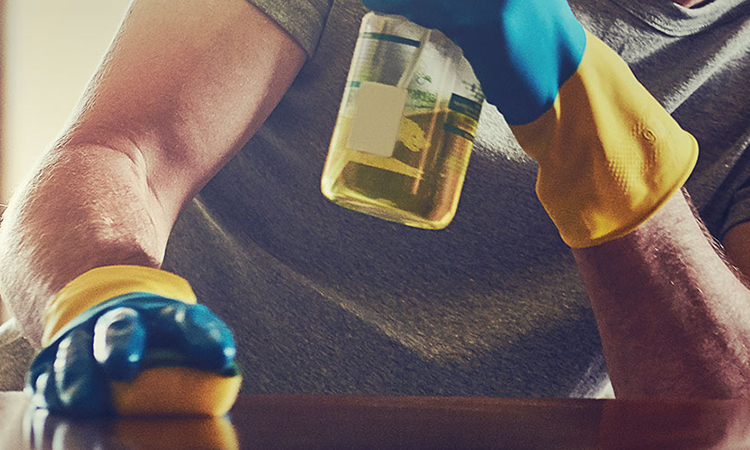 After a long winter in hibernation mode, the warm weather is usually enough inspiration to tackle the yearly ritual of spring cleaning. In nature, spring is a time of renewal and rebirth, so why not apply the same to your home? The whole process can seem overwhelming, but it doesn't need to be. Follow these simple steps to start spring off on a fresh note—and have a little fun while you're at it!
Divide and conquer

Making a plan before any large undertaking is always a good idea. You can start by writing down tasks for each room in your house, and how much time they will take you. That way, your spring cleaning project becomes a bit more manageable.

Try to complete each room from start to finish in a day. You'll get the reward of seeing your freshly organized masterpiece, and stay motivated for the next room on your list!

Start with your bedroom and clear out the dust and allergens that may have piled up over the winter (no judgement). That way, you can make sure you get the best quality sleep every night.

And don't forget to take a night off when you need it! Getting your home in order is important, but you don't want to burn yourself out and scrap the idea before you finish.

Tools for the trade

Nothing is worse than getting halfway through a project and realizing you don't have the supplies you need to finish. While you likely have the basics covered for your spring cleaning, it's the perfect time to get a few of those lesser-used—but equally necessary—supplies (like oven and microwave cleaner). It's also a good time to check on kitchen sponges, brooms and mops. If they look worn out, gross or grungy, replace them!

Don't neglect the neglected

The usual suspects here include wiping walls, baseboards, light fixtures, ceiling fans and inside your appliances. Using the self-cleaning feature in your oven is an efficient way to keep it clean and avoid nasty build-up.

Another often neglected spot is your refrigerator's condenser coils. You can clean them by pulling the fridge away from the wall and vacuuming carefully. Push the fridge back once you're done, while still allowing enough room for it to cool properly.

Don't forget about your air either. Regular maintenance and replacement of your furnace and HVAC filters can drastically increase your air quality. If allergens or air quality are a concern for you, air purifiers or humidifiers may be the answer. Since they'll be running continuously, look into ENERGY STAR certified options. They are more efficient, better for the environment, and best of all—save you money on your power bills.

Clean green

In the spirit of starting fresh, spring cleaning is a good time to go green with your cleaning supplies and habits! Avoid exposing yourself to harmful chemicals and toxins by trying out all-natural options. Just combine white vinegar, baking soda and water for an all-purpose cleaner.

You can also substitute your paper towels with washable microfiber cloths, and use a machine washable mop head. A steam cleaner is another good green option, and can be used to clean your microwave, kitchen tile, hard floors, bathrooms and more.

Switch things up

Tired of the way your space looks or feels? Spring is the perfect time to experiment, making small tweaks that will give your space a fresh new look for the season.

You can transform any room by replacing little things like bedding, towels, or other linens with new light or bright colors. The same can be said about larger aspects of your home—like your appliances.

If your fridge, freezer or stove isn't running the way it used to, new efficient appliances are a perfect idea. Remember to look for the ENERGY STAR logo when shopping for any new appliances.

Have fun!

You might not enjoy cleaning, but a clean home can do wonders for the wellbeing of you and your family. Don't be scared to make yourself comfortable, take breaks and crank the music to make the project as tolerable as possible. Kids can also help with the easier or more tedious jobs, and are a great source of entertainment.

You can also try cleaning with a friend! Even the most mundane tasks are great when you get to do them with your friends. In exchange for their services, return the favour with a glass of wine in your freshly spruced up living room.

You might be dreading spring cleaning, but if you plan it out right, it can be incredibly satisfying. Make it easier on yourself and your team by being prepared, efficient and excited to kick off the season with a clean and fresh start.

Share these tips with your friends or family by clicking any of the links below.
Learn more:
Power Saving Tips and Programs