November Blizzard Causes Power Outages in Saskatchewan
November 17, 2021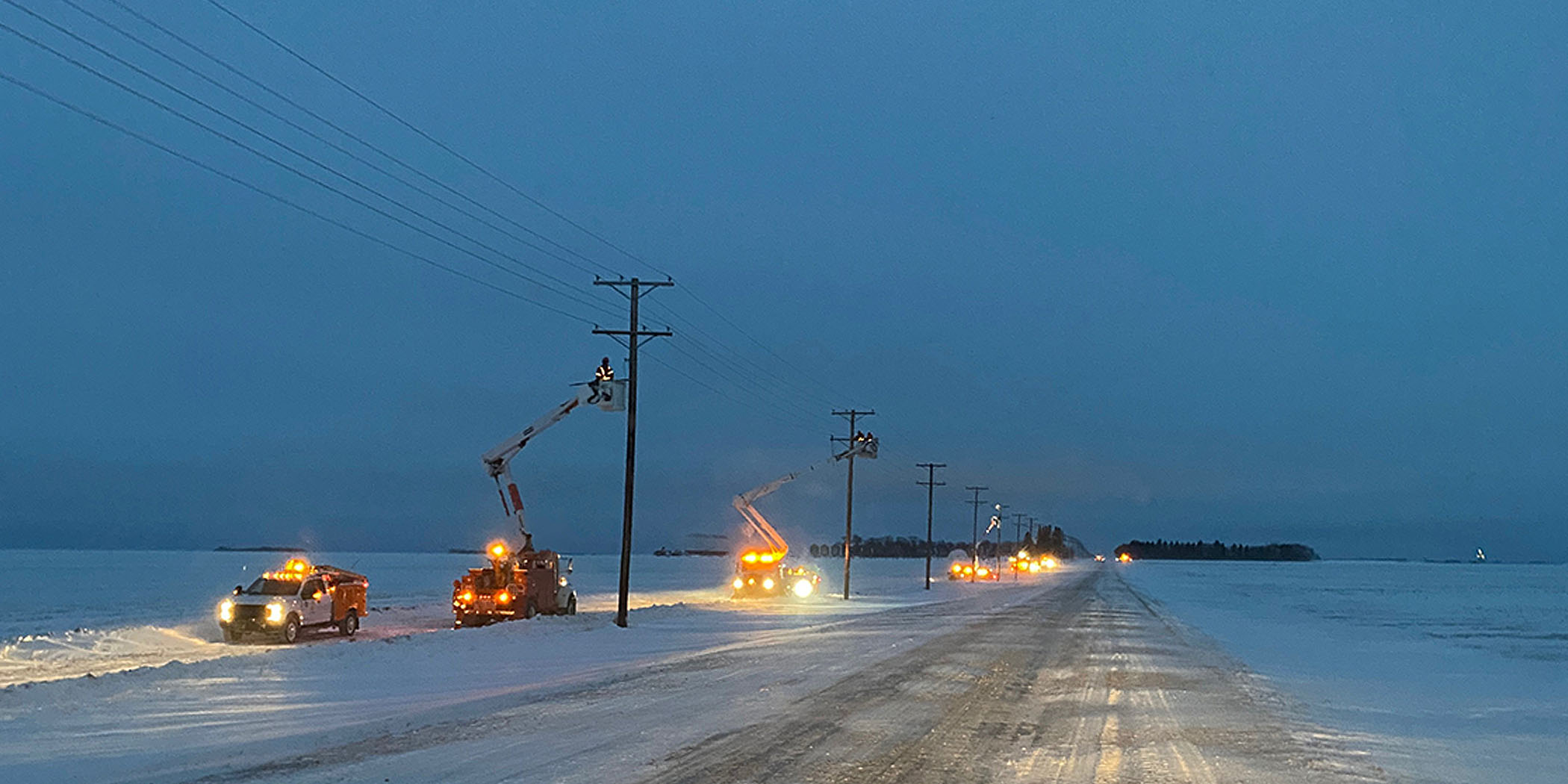 UPDATE: Nov. 17, 2021 9:50 PM
We're happy to report that as of 7:45 pm, all known customers affected by the storm now have their services restored.
In total, the Outage Centre received 8,900 calls, and there were 91 outages across the province affecting approximately 48,000 customers.

If your power is still out, please call us immediately at 310-2220 to report it.
The winter weather season is just beginning, and extreme weather can happen any time of year in Saskatchewan. If you come across any downed line or damaged equipment, please stay at least 10 metres away and call us at 310-2220 or 911 in an emergency.

Once again, a huge thank you to our customers for your patience while our crews got the lights back on across the province.
*********
Nov. 16, 2021 10:15 PM
The ongoing blizzard and high winds continue to impact parts of the province. Since 5 am, our Outage Centre has fielded 5,900 calls about the severe weather. We appreciate everyone's patience and understanding during this blizzard.

Our crews pride themselves on being able to get the lights back on however due to unsafe weather conditions, a number of communities and small pockets of customers will be without power overnight.

The communities that will be off overnight may include:
Approximately 2110 customers in the area west of Melfort including St. Brieux, Kinistino and James Smith Cree Nation
Approximately 200 customers in the Antelope Lake, Rush Lake and Herbert areas
Approximately 200 customers in the Broadview and Ochapowace area
87 customers in Regina
45 customers in the Town of Neudorf
Part of the Town of Eastend
There may be additional smaller pockets of customers who remain off overnight
We'll continue to share new information as quickly as we can and have power restored to impacted communities as soon as possible. For any new outages, or communities without an estimated time of repair (ETR) yet, we'll post updates to saskpower.com/outagemap and our Twitter feed when an ETR is determined.

If you come across a low hanging or downed power line please remember to keep a safe distance of at least 10 metres away. If you see a downed line, call us at 310-2220 or report an outage online: saskpower.com/reportoutage.

If you experience a new outage or notice that your area hasn't been reported, please report the outage online at: saskpower.com/reportoutage or call us at 310-2220.
Learn more:
Provide Your Feedback