5 Questions with Olivier Larocque on Replacing Aging Underground Cables
September 17, 2018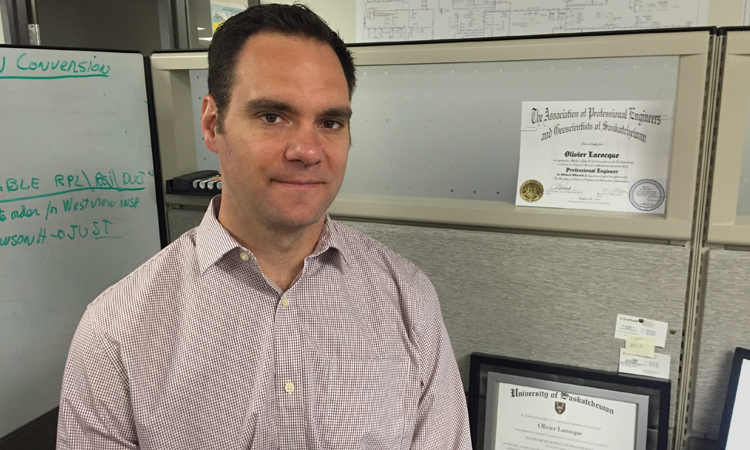 No one likes it when the power goes out. That's why we're replacing underground power cables in some Regina and Saskatoon neighbourhoods.

We sat down with Olivier Larocque, Project Administrator with Distribution Assets to find out more about the work we're doing and how this could affect you.
Why is SaskPower replacing cables in Regina and Saskatoon?

Aging infrastructure, including underground cables, caused 35% of unplanned outages last year.

Meaning these cables can no longer supply you reliable power. That's why it's important to replace them. These upgrades also support efforts to modernize our grid.

What's involved in replacing underground cable and installing new ducts?

First, we'll need to dig using two techniques:

boring (small amount of ground disturbance)

trenching (large amount of ground disturbance)

Once we reach the cables, we'll replace them. In some places we'll need to remove transformers and install pedestals. We're also installing 22 km of duct work. This will make it easier to install new cables in the future.

The total cost of this work in 2018/2019 is $5.5 million.

How do you know which cables need replacing?

We can usually tell because there's more and more outages in an area.

When this happens, we send a power line technician out to inspect. From there we'll decide if it's better to renew or replace the cable. If we're able to renew the cable, we will. It helps extend the cable's life for another 20-40 years. It's also more cost effective.

But the cables we're replacing for this work are beyond repair. We need to replace them now so you continue to have the reliable power you expect.

Will this work impact me?

Only if you live in the areas we're working in. And if you are, we'll let you know. You'll either get a visit from a SaskPower contractor or a notice in your mailbox. To safely complete this work outages must happen. These outages could last up to eight hours depending on the work involved.

We've already started work in:



University Park, Regina
Lawson Heights, Saskatoon
Silverwood, Saskatoon
Fairhaven & Parkridge, Saskatoon

We also have plans to replace cables in:

Sherwood Estates, Regina
Glencairn Village, Regina
East College Park, Saskatoon

Are there plans for more underground cable replacements in the future?

You bet! In 2019-20 we plan on:

replacing 37 km of underground cable
installing 46 km of duct

This work will help modernize our grid and increase power reliability. It's budgeted to cost $9.5 million.

We'll continue to make upgrades to our system so we can provide you safe and reliable power.