5 Questions with Tim Eckel on Power Line Construction Between Regina and Swift Current
July 03, 2018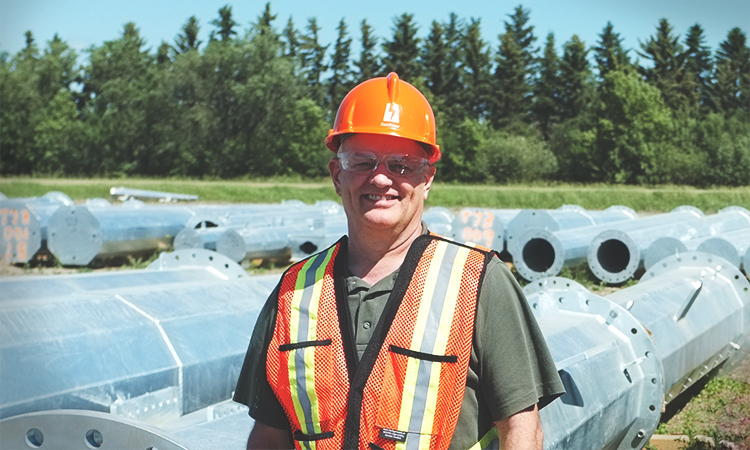 It's typical to see construction in the summer. But there's a lot of construction going on along Highway 1 and 2.
We sat down with Tim Eckel, Vice-President of Asset Management, Planning and Sustainability, to find out what's being built and how it'll support the new Chinook Power Station and our renewables plan.
Why's there so much construction along Highway 1 and Highway 2?

It's because we're building two new power lines. This, along with the wind and solar we're adding in southern Saskatchewan, will help support the new Chinook Power Station in Swift Current. The first line runs east of Moose Jaw to Swift Current; the second line runs from northwest Regina to Belle Plaine.

From the highway, you'll be able to see construction. We'll be putting up large steel towers and stringing the lines – sometimes by helicopter.

Will construction impact me?

Nothing comes before safety. That's why we're doing our best to lower the impact to you. At times, there may be traffic delays as materials and equipment get moved along the route.

We should complete most of the construction by spring 2019. Just in time for Chinook to come online! We'll have a bit more work to do into 2020.

How will these power lines benefit me?

These power lines will provide better reliability now - while powering our province for the future.

We expect the demand for power will grow 1.3 per cent a year over the next five years! We need to make sure we're able to support this.

How much is this costing?

We're investing an estimated $300 million into these power lines. At SaskPower, we're making critical investments in our infrastructure each year. This lets us provide reliable service to a growing province.

Why now?

Once Chinook Power Station's online in 2019, we'll need a way to deliver this power to our customers. These lines will help us do just that, while preparing the grid for renewables.
Learn more…