Six Things to Do Before Starting Your Garden This Spring
May 31, 2018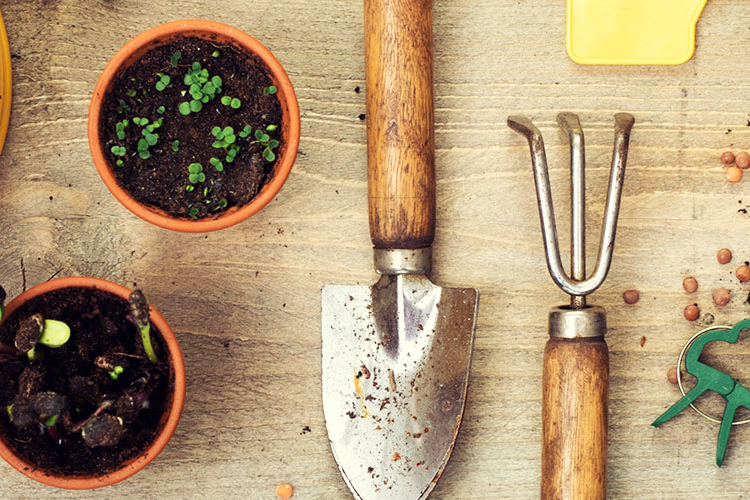 You've been dreaming about it all winter. The snow has finally melted and you get to work in your garden! Getting your hands dirty can be both exhilarating and meditative. When it comes to planning your perfect backyard paradise, however, putting in a little bit of extra work before you get started will make for a more successful project!
Follow these six simple steps before breaking ground, and then sit back and watch your garden flourish.
Get Inspired

Instagram, Pinterest, blogs, Facebook—the internet contains an overwhelming amount of information AND inspiration. This can lead to a mild obsession and begin to consume hours and hours of your day. Save a few posts, build a couple of boards and then visit your favorite local shop to see what works best for you. This will not only save you time, but also from the possibility of heartbreak if your perfectly curated plant list does not come together.

Pick Your Plants

If this is your first garden, this is another set of difficult questions and decisions. Do you want a vegetable garden? Maybe some herbs? Flowers? Perennials or annuals? Or, a little bit of everything? Spend some time learning about growing seasons , hardiness zones and how much sun a plant requires before buying. If you're a newbie, here's a list of the easiest seeds to start . If you already have a green thumb, try something new this year! Why not branch out?

Location, Location, Location

Try to pick a spot for your garden that is impossible to ignore. This will keep it top of mind! It could be just outside the front or back door, or in plain view of a window where you spend a lot of time. Generally, almost all vegetables or flowers need about six hours of sun a day. On your day off, periodically check in on your ideal location to track how the sun moves across the space. If options are limited and it's relatively sunless, don't fear—there are lots of plants that can tolerate shade and you can plan accordingly! When you've chosen the magical spot, mark the edges with a line of sand or flour. You can add a bit creativity by giving your edges a flowing curve, or keep it practical by mirroring the lines of your house.

Dig—or Don't

Once you've chosen the perfect spot, you need to remove the grass or sod covering the area. If digging is not your forte, cover the area with a layer of newspapers about 5 sheets thick. Spread a 3-inch layer of compost or combination potting soil/topsoil on top of the newspaper and wait for the grass to die. This usually takes about 2-3 months. For quicker, but more labour intensive results, remove the top layer with a shovel or spade. If you're planning on planting shrubs, trees or doing any more serious landscaping, remember to get a free underground line locate by visiting ClickBeforeYouDig.com before you start digging. You only need to request the locate two full business days in advance of starting your project. This easy processes can save you thousands of dollars in potential damages or even injury.

Prep the Soil

After the lines have been flagged and the area is safe to proceed, remove any rocks, roots or other debris in your way. Use a spade or spading fork and gently turn the top 8 to 12 inches of soil over. To give your new uncovered soil a boost, mix in a 2-3 inch layer of compost, decayed leaves, dry grass or old manure. To prevent your lawn from crawling into your garden, you can even dig a trench about 8 inches deep around your flowerbed.

Plant Planning

Before you actually get plants in the ground, lay them out on top of the soil and rearrange as necessary. This will help give your plants the correct spacing so that they look their best! There are some plants that can tolerate cold weather better, so you can start with plant them earlier in the season. Other plants, however, shouldn't be planted until the possibility of frost has passed.

Now the fun part. Dig in your plants, care for them, and watch them grow! If you're starting a garden for the first or tenth time, hopefully these pre-planting tips will help your garden dreams come true.

Share this knowledge with a fellow enthusiast by using the social icons to the right.