We're working to create a workforce that's as diverse as the communities we serve. We'll do this by building a place where everyone's treated with respect by encouraging creativity and innovation. This is essential to our success.
Diversity and Inclusion Defined
Here, diversity means more than the familiar traits like:
race

ethnicity

gender

religion

disability

sexual orientation
It can mean personal and professional characteristics like:
communication style

work habits

behavioural attitudes

knowledge

thought processes

ideas

life experiences
Inclusion's about being valued for who you are and what you bring (i.e. your diversity). We want our employees to work to their full potential - every single day.
We have 6 employee affinity groups:

1) Aboriginal Employees Network (AEN)
2) Lesbian, Gay, Bi-Sexual, Transgender and Queer (LGBTQ) Network
3) Network of Employees for Disabilities (NED)
4) Visible Minority Network (VMN)
5) Women's Resource Group (WRG)
6) PowerGen (professional and career development network)

These groups play an active role in creating a diverse and inclusive workplace.

SaskPower's Diversity and Inclusion Strategic Plan for 2017- 2020 focuses on:


Increasing SaskPower's diverse talent pool
Enabling leaders to build a diverse and inclusive team
Programs for all employees to support diversity
Partnerships with:


educational institutions
employment agencies
non-profit organizations

We have a partnership agreement with:


The Canadian Centre for Diversity and Inclusion (CCDI)
An equity partnership agreement with the Saskatchewan Human Rights Committee (SHRC)
Diversity and Inclusion Committee and Employee Affinity Groups
The Diversity and Inclusion Committee and Employee Affinity Groups focus on providing employees with a voice. Together, they share a vision to further diversity and inclusion within SaskPower.
Affinity group members help with:
building networks

providing development opportunities

recruiting

providing feedback
Indigenous Network
Working as a collective voice, this group provides Indigenous employees with a supportive work environment. They're also involved in community events, like:
Orange Shirt Day; and

The National Indigenous Peoples Day.
Lesbian, Gay, Bi-sexual, Transgender and Queer (LGBTQ) Network
SaskPower supports the LGBTQ Network and the LGBT2QI2S+ (Lesbian, Gay, Bi-Sexual, Transgender, Queer & Questioning, Intersex and Two-Spirited plus) Community.
This group supports LGBTQ employees and their families. Each year we take part in the Queen City Pride Parade. We invite families and friends to join us in Regina, as well as throughout the province.
Network of Employees for Disabilities
We're a strong voice for people with disabilities. We work with the Network of Employees for Disabilities (NED) to promote accessibility in our workplace. We continue to be proactive and accommodating while working with NED to improve our policies and practices.
Visible Minorities Network
Our Visible Minority Network (VMN) is active within the community and at SaskPower. This group focuses on issues affecting visual minorities in the workplace.
The VMN works to promote SaskPower as an employer of choice. They've created a working relationship with WeChat China to attract and keep talent.
Women's Resource Group
The Women's Resource Group (WRG) started as a mentorship program for the women in the organization. Today, the goal is to help all women achieve their full career potential in any profession they choose.
The WRG works to:
promote trades and engineering as careers for women

provide role models within the company

prevent discrimination and harassment
PowerGen
PowerGen creates important connections while promoting personal and professional development. They co-host the annual Crown Connections Event each year. This gives all attendees the chance to network with peers and with the leadership from Crown Corporations.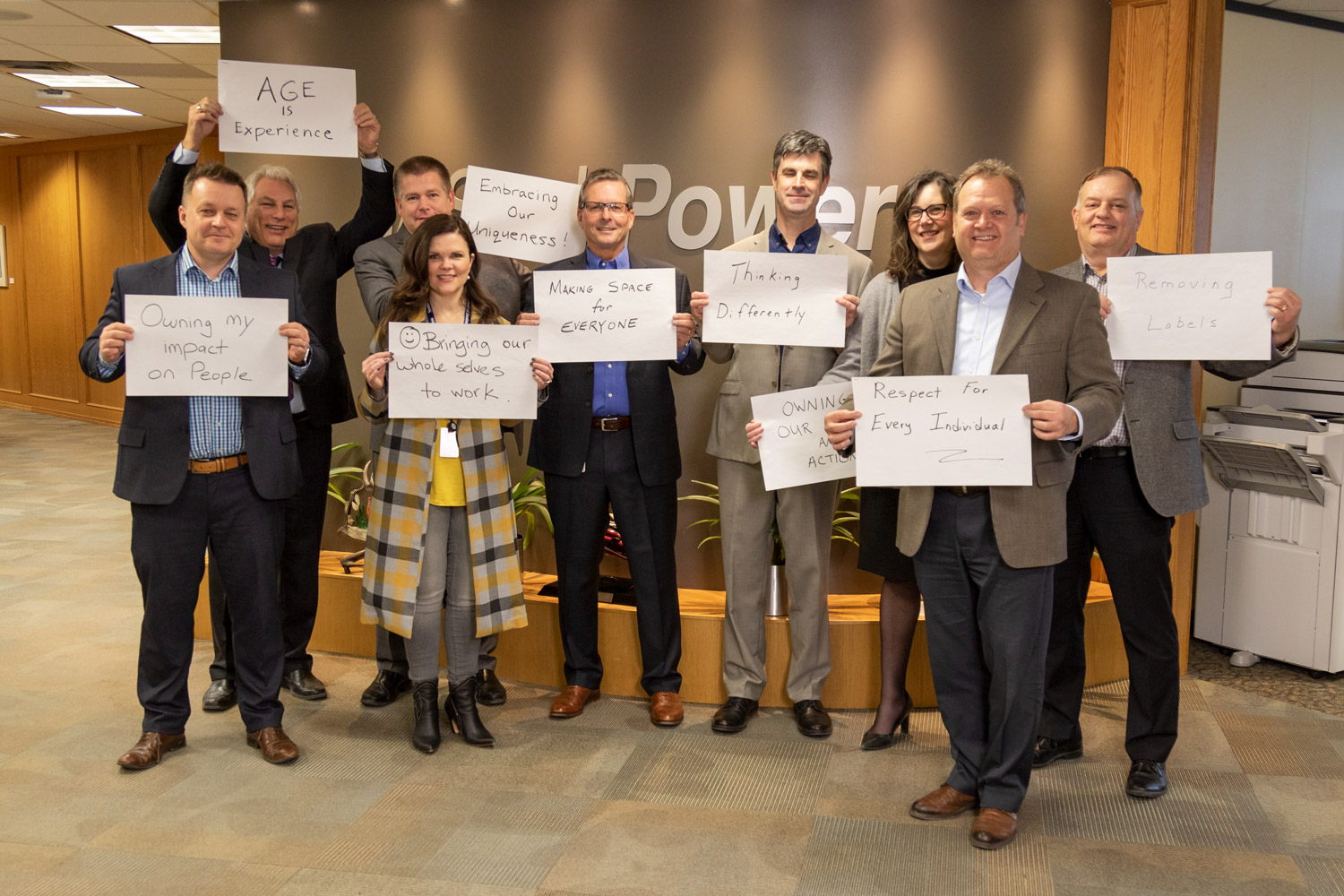 SaskPower's Executive team, shown here, as part of an internal campaign to portray what they stand up for, in support of diversity and inclusion at SaskPower.