Construction is mostly complete on a $19-million power line and substation upgrade to accommodate growth near the University of Saskatchewan (U of S) in Saskatoon.

Why We're Doing It
This $19-million project will help us continue providing safe and reliable power and meet the growing demand for power in the areas served by the substation. The substation and power line supplies power to the University of Saskatchewan (U of S) and about 7,000 homes in the area. It also provides backup power to another 11,300 homes if needed.
Our Progress So Far
We've completed construction of the new Preston Crossing Substation and high-voltage power line. The line runs between the new substation to another one of our lines near the W.J. Bunn substation. In August, our crews will finish cleaning up and reclaiming the areas impacted by the construction. This means you'll no longer see or hear equipment working on the site, and there will be no more traffic or walking path restrictions.
We'll continue to work with the City of Saskatoon to replace the vegetation that was removed to allow for the construction. That work is expected to begin this fall.
There's also some remaining work to service to the U of S. This includes upgrading the power line supplying power to the university. We anticipate this work to be completed in 2023. We won't require any traffic restrictions or power outages to complete this work.
Check out the Preston Crossing power line route in the video below: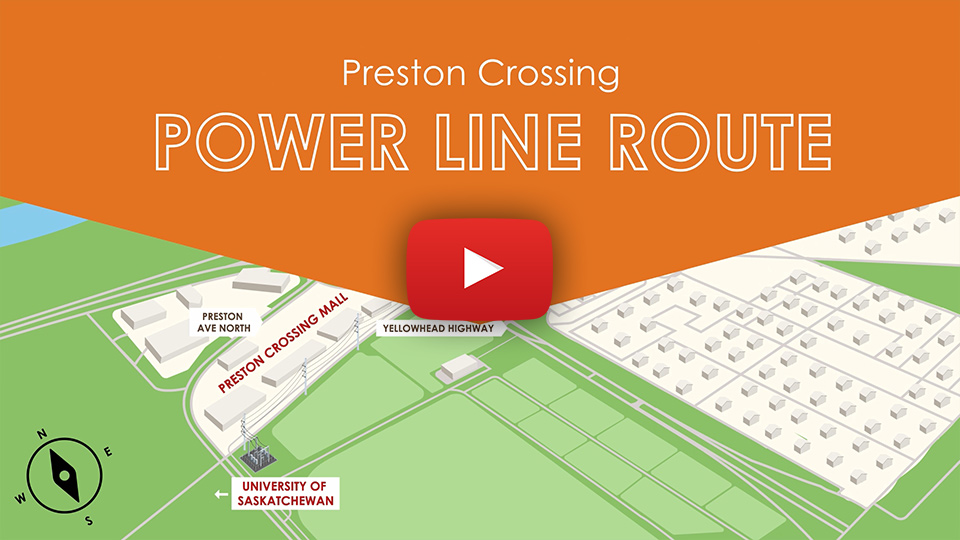 Minimizing the Impact to You
Through coordinating with Saskatoon Light & Power (SL&P) and the City of Saskatoon, we limited disruption in the area. We did this by sharing overhead power line structures with SL&P.

Respecting the Local Environment
We've consulted with the:
City of Saskatoon Sustainability Division
Meewasin Valley Association (MVA)
Saskatchewan Ministry of Environment
We ensured that we followed all necessary permits and regulatory requirements to complete this work.
Keeping You Informed
In 2019 we held an open house in Saskatoon. We introduced the Sutherland Power Line Project — now named the Preston Crossing Power Line Project. We received lots of feedback and answered various questions about the project. We've compiled that feedback into a summary of what we heard. The themes of that report include:
Trees and green space
Traffic restrictions
Proximity to homes
Overhead versus underground power lines
Decisions made without public input
Noise
Outages
Interference with Wi-Fi and radio
Communicating with the public
City of Saskatoon involvement
For more details about this project: