We're adding to and making the power grid stronger for the Regina City Central Business District. This includes:
Checking our underground systems
Installing and maintaining duct banks (corridors for cables feeding to and inside the Central Business District)
Installing and replacing equipment and underground cables
Conducting underground studies for engineering design work
Why We're Doing It
This work will help make sure that customers in Regina's Central Business District have the power they need. By making these upgrades, it'll also give us more visibility into the grid and help us find and restore power outages faster in the future.
Our Progress So Far
The program started in Regina in 2012, and since then we've invested $52 million. To date, we've worked on:
duct banks
substations
equipment switch upgrades
technology upgrades
retired old substations
replaced underground cables
This year's work will be underway from April 2022 to March 2023.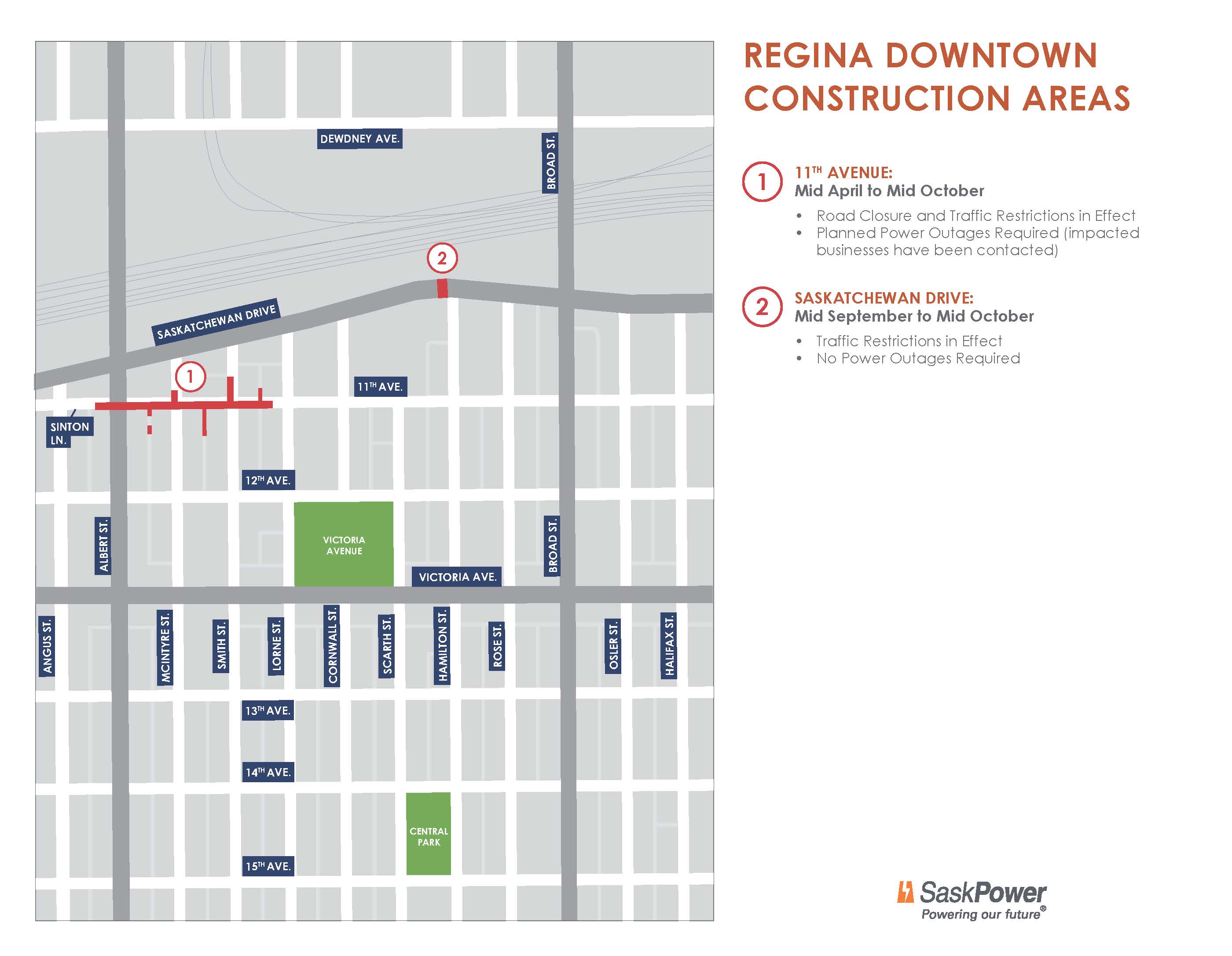 Minimizing the Impact to You
Some of this work will cause disruptions like:
road restrictions
noise
planned power outages
Our crews will do their best to inform you about the impacts of the work ahead of time. We understand that power disruptions and construction activities can be annoying. Work will usually be scheduled Monday to Friday from 7 am to 7 pm. But there will be projects that need to continue into the weekend, or only be done on weekends.
We do this to reduce impacts to businesses, and make sure we can finish the work and get back to normal as soon as possible.
Respecting the Local Environment
Our crews will use safe handling methods when disposing of hazardous materials. But we expect no impact to the local environment.
Benefits to Local Communities
Doing this work will allow us to continue to provide reliable power to our customers in Regina.
The estimated cost of this program in 2022-23 is over $8.5 million.
Keeping you informed
For more information about this project, visit:
If you have any questions or concerns while construction is ongoing, please call 1-888-757-6937.