UPDATE: Residential Customers Invited to Pilot Smart Meters
March 15, 2021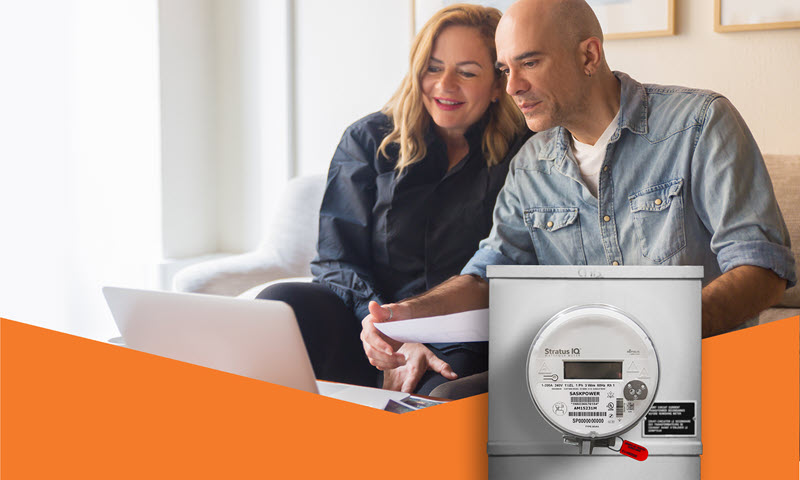 Please note that we aren't accepting any more smart meter volunteers. Our meters are arriving at a slower pace than expected due to global supply issues. But we're working hard to ensure everyone who signed up receives a meter.
If you have a residential smart meter, there will be a delay before it's able to 'talk' to our system. This means you can't yet view your power use online. We can't provide an exact date for this to happen yet, but we'll update you as soon as we can. Please submit monthly reads in the meantime. Commercial and industrial smart meters are not affected by this.
Thanks for your patience and continued interest in smart meters!
UPDATE: Additional communities added to pilot program.
Quotables:
SaskPower is ready to install smart meters for up to 30,000 residential customers before the end of August 2021.
We're pleased to bring the benefits of smart meters to our customers and our province.
Customer safety is our top priority, and the smart meters we're installing are of a quality we can stand behind.
SaskPower is inviting customers to help us pilot our new residential smart meters this spring. The meters have undergone extensive testing for safety, quality and performance – now you can take advantage of the benefits of a smart meter while helping us create best practice for future meter rollouts.
If you're interested in getting a smart meter, please consider signing up today! All residential customers are welcome to apply. Specifically, we're also looking for customers who fall into these three groups:
Customers who live in Beechy, Emerald Park or White City, Prince Albert, North Battleford, Battleford, Kyle, or
Those who already participate in SaskPower's Net Metering program, or
SaskPower customers who have received a letter from us saying their meter has reached the end of its lifecycle and is due for replacement.
The pilot will help us to validate our deployment, communication, scheduling, and procurement procedures. And the more meters the better – we're also looking to understand how concentrated groups of meters in one place help to improve their communication with the network.
The Benefits of Smart Meters
Like the name says, smart meters have smart technology – that means no more power bills based on estimated meter readings. Interested in seeing when you're using the most power at your home to help you save money? With a MySaskPower account and a smart meter, that detailed data is available to you online.
Signing up to Receive a Smart Meter
Participation is voluntary, but we only have a select number of meters at this time. We're looking to install up to 30,000. Anyone signing up now will have their meter installed by the end of August. The installation process is easy and only takes about 15-20 minutes.
These Meters are Tried and Tested
We stand behind the quality of these new residential meters. They're built for Saskatchewan's harsh weather and go above industry standards for safety. SaskPower developed its own standards for meters and has been using it to successfully install smart meters on 40,000 businesses throughout the province since 2017, with no issues.
Focused on Quality
We learned from our experience in 2014, where we experienced problems with meters of a completely different type. Over the last seven years, SaskPower has worked hard to find meters that meet our new and improved meter standard, develop additional process improvements and complete thorough meter testing. A third-party testing facility, MET Labs, has also verified that the meters we're using meet this new standard. MET Labs is a North American global service leader for product safety approvals and regulatory certification of electrical products. If you're interested, you can also access the MET Labs report.
This Pilot Will Help Us Shape Future Rollouts
We're confident in the meters – now it's time to learn more about how we best deliver them to customers and how we maximize their performance on our network. We'll be looking at everything from how long the meters take to arrive in Saskatchewan after they're ordered, to how we assign our crews to do the work, to how the meter signals transmit across broad distances.
Our Employees Are Going First
SaskPower's Board of Directors and executive members already have smart meters on their homes. More than 1,500 of our employees will also be getting theirs at the start of the pilot. We trust this technology and the benefits it has for our customers and managing Saskatchewan's power system.
Smart Meters Are Necessary For a Modern Power Grid
Smart meters are a key part of a modern power system. As SaskPower adds more technology, we'll be able to tell in real time where the power is on or off. This will help us to pinpoint the cause of an outage and send crews to the right location quickly to fix it.
Modernizing the grid requires a number of pieces that will work together. These include:
smart meters

automated substations – equipment that allows our grid to "talk" back and forth, enabling two-way communication

an outage management system, which links each customer to SaskPower's electrical map

other important technology that will build the foundation for a modern, responsive power system
A modern power grid will help SaskPower to better see, control and automate our network. This will allow us to work more efficiently and provide a better experience for our customers, with the ability to find and fix outages more quickly while improving the reliability and safety of our system.

SMART. SAFE. SIMPLE.
Sign up for your smart meter today to have it installed by the end of August. The meter and install are of no cost to customers.
Please note: We're only accepting single-family dwellings at this time. Multi-family dwellings like apartments and condos will be added in a future phase.
Learn More: